What if I told you there is a group of people who are going to accomplish 5,000 acts of kindness in just 15 days? Think it can be done?
What if I told you most of those people still live in their parents' houses? And don't have jobs? And wear "PAW Patrol" pajamas each night?
The people taking on this massive kindness challenge are students in kindergarten through fifth grade. Still think it can be done?
Nativity Elementary School in Fargo is the first school in the state of North Dakota to take part in one of the nation's leading kindness initiatives called Think Kindness. Back in April of 2016, I introduced you to a man named Brian Williams who started this program. It's grown immensely, and now, Brian has a team of people who travel to schools to kick off a kindness revolution.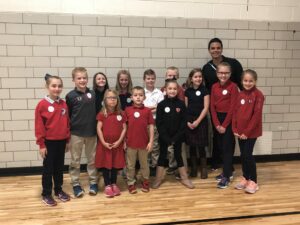 The entire student body is challenged to document 5,000 acts of kindness. Each student has a kindness journal so they can jot down all of the kind deeds they perform for one another. Students are also receiving daily kindness ideas so they can carry the goodwill home.
The next part of the Think Kindness Challenge includes some community involvement. During the kickoff assembly, Nativity students got to "meet" kids their own age in Kenya through stories, pictures and videos. The North Dakota kids found out most of these children in Kenya have never worn shoes. With the help of parents and friends, Nativity is collecting gently used sneakers that will be sent to needy children and families around the globe.
Principal Kimbra Amerman says she's seeing fun and positive changes in the school just one week into the challenge.
"The students have really taken ownership of this challenge," she says. "Throughout the day, I hear them recognizing efforts and saying to each other, 'That was such a kind thing to do!'"
School counselor Mary Jo Andersen says, "The kids are really enjoying the challenge and thinking about ways to help others all day long. It is really changing the focus of their thoughts."
The teachers are also noticing benefits in the classroom. One teacher says, "I have noticed my students are extra motivated and overall extremely excited to complete acts of kindness. It is so fun to see them make daily goals for themselves on how many acts of kindness they can complete. It is awesome how much a small action like complimenting a friend or playing with someone new at recess has completely lightened and energized the mood in the classroom."
The Think Kindness Challenge gives kids firsthand experience in what it means to give and receive kindness. With 5,000 acts floating through the community, it's bound to catch on.
If you'd like to help the kids with their acts of kindness, drop off your gently used sneakers at Nativity Elementary, 1825 11th St. S., Fargo. They're only collecting sneakers, so please don't bring boots, sandals, slippers or other footwear.
Please continue to share your stories of kindness with me at info@nicolejphillips.com. Or send a letter to Kindness is Contagious c/o Nicole J. Phillips, The Forum, 101 5th St. N., Box 2020, Fargo, ND, 58107.