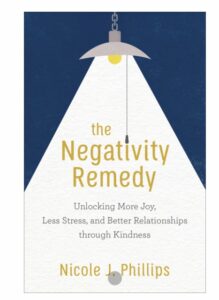 "We're all pretty nice people, right? It's all those other people who are the problem.
Sure, occasionally we're tempted to gossip or indulge in a little justified road rage… or snap at a spouse… or scream at our kids… but if everyone else would just get with the program, we wouldn't be this way!
Maybe the trouble isn't with all those other people who aggravate us. Maybe we're the problem — specifically, the way we react to inconveniences, accidents, and just plain everyday life with negative words, thoughts and actions. Because the truth is, when we stop focusing on how we're being affected and start responding in kind ways, that's when something remarkable happens: we actually feel happier ourselves.
With humor, compassion and encouragement, Nicole Phillips draws on scientific research and real-life examples to help us recognize unhelpful negative thought patterns, show kindness toward others even when we don't feel like it, and discover how one little change actually changes everything."
Buy it at Baker Book House for up to 40% off!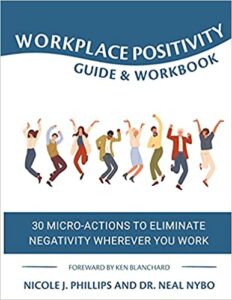 Written with co-author and friend, Dr. Neal Nybo, this manual outlines an interactive, practical set of very small acts of kindness anyone can do. These will have an immediate impact on co-workers and, over time, can change an entire organization's culture.
Read 100 stories of kindness!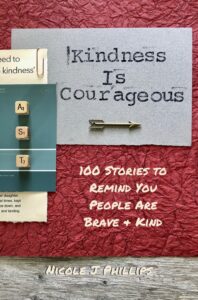 Need to shift your focus toward the positives in life? Nicole helps us reroute our vision through these 100 stories originally shared in her popular newspaper column, Kindness is Contagious. In Kindness is Courageous: 100 Stories to Remind You People Are Brave + Kind, unleash your own power to be authentically brave and kind! These real life stories will change your life by changing the way you see the world.
Read the book that started it all!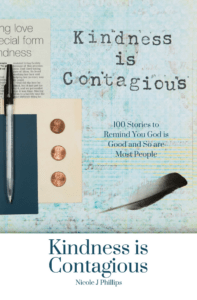 Feel like your focus could use a little refining? Let the stories that often go untold in our society become you secret passageway to a life full of purpose and joy.
In Kindness is Contagious: 100 Stories to Remind You God is Good and So Are Most People, columnist Nicole J Phillips compiles her most popular articles in one book.
These powerful stories were sent in from people all over the United States for original publication in a newspaper in Fargo, North Dakota.
Each one reminds us that love is a powerful tool to combat life's ugliness and motivates readers to step out of their comfort zones to activate the true benefits of kindness. Buy it on Amazon