Anna Dravland had the worst headache of her life. Carrying on through the searing pain in her head, Anna set out, walking to work. It was 2017 and she was 34 years old.
Her day stopped suddenly when she collapsed in the middle of the street. Anna suffered a massive stroke that nearly took her life. She woke up three days later and couldn't tell you her last name, birthday, or identify a picture of a cat. But she remembers the kindness of the woman in the blue car who rushed to her side and held her as they waited for the ambulance.
Just weeks before the stroke, Anna had been planning her first big kindness event – Spread Goodness Day.
While Anna was learning to walk and talk again, her friends stepped forward to make sure Anna's vision was fulfilled.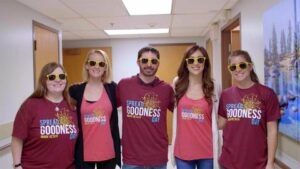 Anna still suffers from many complicated health issues, but she uses kindness to keep her spirits high. It's been five years and the fifth annual Spread Goodness Day is happening on Friday, March 11th.
It's designated as an official holiday in the state of Michigan and Anna hopes to hear stories of explosive goodness from across the United States.
She wanted me to invite you to be part of the Spread Sunshine Challenge – which is a chance to win a piece of the $1000 in available gift cards. Here's what you do:
Take a picture at sunrise wherever you are in the world. (Even if it's cloudy or out your window.)
Take pictures of goodness you spread, see or receive throughout the day. Even pretty things or a sign that made you smile!
Take a picture at sunset.
If you'd like to learn more about Anna and Spread Goodness Day, you can listen to my interview with her on The Kindness Podcast or visit SpreadGoodnessDay.com.
And many thanks to my fourth-grade friends at Lincoln Elementary in Aberdeen, SD for helping out with Spread Goodness Day! You are making the future so bright you're gonna need shades!