Things were bananas in our home this weekend. It was Saul's 48th birthday. The guy wants nothing — except to be able to have a real basketball season and I can't give him that. So, the kids and I put our brains together to figure out how we could celebrate this strong kind man in a way that is meaningful to him.
Charlie, my 14 year old son and I were on our way to the grocery store to do some birthday "elf" work.
Charlie assumed we were going to get Dad the same cookie cake we get for all the kids' birthdays. But I had other ideas.
"Why can't we get the cookie cake? I love those!" Charlie exclaimed.
"Because Dad doesn't love those," I reminded him, "and this birthday is about Dad."
The cake was a hit and we all ran around stuffing handfuls of M&Ms in our mouths all day.
But the real hit of the day was the present we got Saul.
I need to pause here and say, if you know our family, you know we're a bit of a loose cannon. As long as it's fun and we aren't hurting anyone, we don't give much thought to what the neighbors might think.
I realized after writing a Kindness is Contagious story about a lady with a room full of costumes that she uses to delight senior living residents that we don't have a gorilla costume.
Well, we do now.
Saul tried it on. Then Charlie tried it on. Then Charlie rode his bike around the neighborhood with it on. Saul agreed he is going to find ample opportunities to wear it. He doesn't know what they are yet, but I'm sure he'll come up with something brilliant.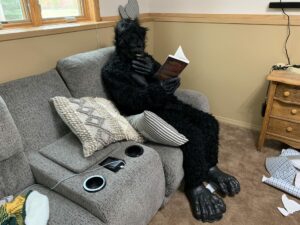 Here's the take-away. A long time ago, I might have given Saul something that would benefit me somehow — or our household. Sort of like, "I know we're going to need to shell out the money for a weed-eater at some point, so why not give it to Saul for his birthday?"
I would have given him the cake with my favorite type of frosting because I know he doesn't like cake and wouldn't eat it anyway.
But kindness changes our perspective. It forces us to think a little harder, be a little more creative, have a bit more fun.
When you give a gift, is it something you think you'd like or something you KNOW they would like?
Saul's Special Birthday Cake Recipe
1 – 12 pack of Mountain Dew
1 – Party Pack of M&Ms
Loads of love
Assemble all ingredients in the cutest way possible so it looks like you actually tried to be creative and aren't just leaving groceries on the counter.
Tah-dah!