When I was little, my mom taught English as a Second Language.
Now in her 70s, she continues to teach. She has always had a heart for people who are new to our country. I've often wondered about the impact she has made on her students that she'll never know.
Sometimes all it takes is one person in our corner, believing in us, to set us on the right course. A young man named Fahad Turki sent me an email recently that touched my heart. It was in his English classroom that he found someone determined to make a difference in his life.
"I'm a new English learner. I study English as a Second Language in Grand Forks, N.D. When I first came here from Saudi Arabia, I found it is very hard to get involved in the community. It is very difficult to find someone who can accept you, listen to you and is able to give his time.
"My teacher, Ms. Melanie, gave my classmates and me these things and more. She always cared about everyone. If there was someone hurting or with bad feelings, she would not let it go. She asked him or her about the problem and figured out a solution, even if it was a mundane thing.
"She always appreciated the work of the student by telling them how good it was, not just giving a grade on their sheets. She respected everyone's opinion and gave them the confidence to do anything they wanted.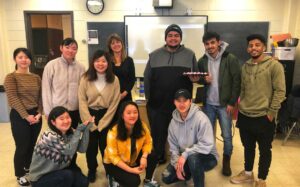 "The language program finished recently and it felt like the saddest goodbye I will have to say in my life. In my last meeting with Ms. Melanie, she gave me the most valuable thing I have ever had.
"Ms. Melanie and I have a similar interest, which is art, novels and plays. A few months ago, I shared with her a story which is related to my mother. In 1984, my mom went to New York with my father for their honeymoon. At that time they watched a famous play called 'Cats' on Broadway. My mom loved this play so much and she never forgot it.
"I was born in 1998. During my childhood, she often mentioned 'Cats' and she described how amazing it was. From that time until now, attending 'Cats' has been one of my dreams.
"On the last day of class, Ms. Melanie said, 'I have something for you.' She gave me a very special poster of the 'Cats' play. It's really meaningful for her because it's related to her family and she had it for a very long time.
"It was the kindest gift I have ever been given. I believe that kindness appears in the details, and the kindness details of Ms. Melanie are countless. There are no words to describe how much she cares about all of her students."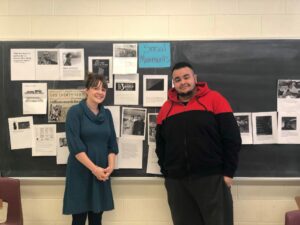 Fahad was a little nervous that I wouldn't be able to understand his letter, but I'm sure you will agree that both his kindness and Ms. Melanie's shine through brilliantly.
Please continue to share your stories of kindness with me at info@nicolejphillips.com. Or send a letter to Kindness is Contagious c/o Nicole J. Phillips, The Forum, 101 5th St. N., Box 2020, Fargo, ND, 58107.
Nicole J. Phillips, a former Fargo television anchor, is a speaker, author and host of The Kindness Podcast. She lives in Athens, Ohio, with her three children and her husband, Saul Phillips. You can visit Nicole at nicolejphillips.com.