Be brave. Be kind. Be you. That's what I'm trying to teach my kids.
The message seems to get through to them at home, but the majority of their day isn't spent in the comfy and (usually) considerate confines of our house. Their day is spent in school where snap decisions and snarky words can sometimes get the best of them.
A woman near Madison, Wis., has three little girls. She, too, tries to send her kids off to school with encouraging words and a helper's attitude. Instead of just hoping her kids would remember to be kind, she decided to take action. I'm honored she chose to use my "brave, kind, you" mantra in her creative endeavor!
Here's her story: "One of my favorite parts of the day is picking the kids up from school. In the 10-minute car ride home, I get to hear stories about who they had lunch with or who was being a rascal on the playground. Sometimes they tell me about kids being mean to each other or cliques forming between third-grade girls.
"A friend shared a post on Facebook about inspirational messages on bathroom stall doors. They included phrases like, 'Believe in Yourself,' and 'Throw Kindness Around Like Confetti.' A few other moms and I decided to see if we could do this at our elementary and intermediate schools.
"Right away, we received approval from the principals of each school. We researched types of paint, sealants and different designs. When the art teacher at the high school found out what we were working on, she wanted to help.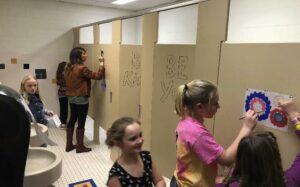 "We got started with the elementary school bathroom and it was so fun! Kim, the art teacher, freehanded the message 'Be Brave, Be Kind, Be You,' and we filled the letters in. Kids in the after-school program would poke their heads in to see what these 'crazy moms' were working on. Once we were finished, we were proud of our work, but a bit nervous because we realized little fingers might get curious and scratch off the paint.
"Sure enough, a few days later, the principal called and said a second-grade girl was in his office after admitting to removing some of the paint. She was feeling guilty, and we felt badly, too, that we had created this tempting situation. We decided to go to a specialty paint store to see if they could help us.
"After explaining the situation to Cindy, she said she could help with an awesome sealant and chalk paint. When we went to pay for the new paint, Cindy handed the bag over and said, 'Please take this as a gift. I think it is really neat what you are doing in the school.'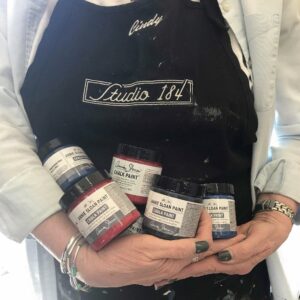 "Tears came right away. We were feeling so loved as Cindy continued to spread kindness with her generosity to us."
It's so fun to see how a clever idea and a can of paint prove that kindness is contagious!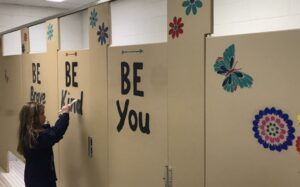 Please continue to share your stories of kindness with me at info@nicolejphillips.com. Or send a letter to Kindness is Contagious c/o Nicole J. Phillips, The Forum, 101 5th St. N., Box 2020, Fargo, ND, 58107.